Social media is fascinating because it constantly changes and evolves according to user requirements. When Snapchat was launched in 2011, it comprised only some basic elements. Today it's one of the most popular messaging apps. Snapchat now keeps users hooked with its unique take on messaging using pictures.
However, at times, it becomes bothersome if you receive thousands of various snaps from people, especially if you have more than a hundred individuals on your contact list. Similarly, its 'Story' feature is also overwhelming to a great extent. In 2018, the app rolled out its feature, enabling users to mute and unmute someone.
This feature is handy for those who do not want to receive constant beeping sounds yet stay updated with what our acquaintances have posted.
How To Mute Someone On Snapchat?
If you are tired of getting the same repetitive snaps from someone but don't want to block or unfriend them, then the mute feature can be a life saver for you.
Here is how you can mute someone on Snapchat in a few simple steps:
Step 1: Search for the friend, group, or story you wish to mute from the 'Conversations' tab.
Step 2: Tap their name to open the respective profile page(s).
Step 3: Click on the three vertical dots in the upper-right corner of the screen.
Step 4: Now, click on the 'Mute Story' toggle from the list. It needs to turn blue.
Step 5: If you are muting the friend, group, or story for the first time, Snapchat will ask for your confirmation. You need to tap 'Mute' to confirm.
Step 6: Click on 'Done' at the bottom.
Moreover, you can directly turn off notifications and only receive an alert for what you wish to see. Here are the steps to do so:
Step 1: Click on the gear wheel icon in the Profile screen and open 'Settings.'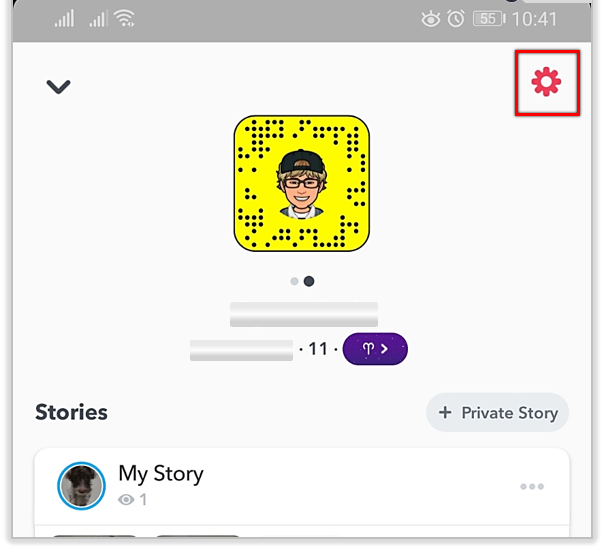 Step 2: Select 'Notifications'.
Step 3: Select a notification to turn it off.
However, you can still view and interact with those people whose notifications you have muted. The upside is that you will not receive any alerts as and when they update. Neither will the over-sharing party get to know that you have muted them.
What Is The Difference Between Do Not Disturb And Mute?
You need not block someone or leave a group if you wish to stop the endless notifications. There is a simple technique that you can implement for silencing bothersome notifications. The 'Do Not Disturb' option lets users secretly mute group and one-on-one conversations without notifying the opposite party.
Simply hold on to the name of the person or group you wish to silence and click on 'Do Not Disturb' in 'Settings' from the popup menu.
Though you will not receive notifications from the conversation anymore, you will be able to access them, check unviewed Snaps, read unread messages, and send yours as well.
Technically both 'Do Not Disturb' and 'Mute' function on a similar basis, though the second feature is somewhat different.
For instance, you have a friend or a family member whose stories do not cater to your liking or interest. Neither do you want to watch their story nor remove them from your friend list. You can manually try and avoid viewing the story, but you might end up watching their stories while viewing other stories. In such a scenario, you can mute a story, and the stories from that specific individual will get pushed to the end of the story list. Also, their stories will not appear in the story slideshow anymore.
You need to open their stories manually if you want to watch them.
There is no fixed time duration for which you can keep someone muted. You need to mute or unmute the individual manually.
How To Unmute Someone On Snapchat?
If you have muted someone and want to start receiving notifications from them and seeing their stories again, then you will have to manually unmute them.
Use the following steps to unmute and enable notifications on Snapchat.
Step 1: The first step is to open your friend list after launching the app.
Step 2: Next, tap on the profile picture of the specific individual.
Step 3: Now, click on 'Settings.'
Step 4: Tap on 'Unmute Story.'
Now, their new stories will be visible in the story list and the slideshow.
Privacy Settings
Since you are getting acquainted with these features, ensure that your privacy settings align with your Snapchat experience's expectations. The default setting is set to 'Friends' for who can contact you or view your story on Snapchat. If you want to change this, you can alter the settings anytime you want.
Here is how you can change who can view your stories on Snapchat
Step 1: Tap the Gear icon and go to 'Settings.'
Step 2: Search for the option 'Who Can' to view the list.
Step 3: Click on each option to see who can view your story, send notifications, and the like.
Step 4: Every option will allow you to select from 'My Friends,' 'Only Me,' or 'Everyone.' You can also build your custom list of contacts.
Step 5: After editing, tap the back button to save your preferences.
Though your settings are restricted to 'My Friends,' strangers will not be blocked from Group Chats. To understand who is in a Group, tap and hold the group name on the chat screen and view its members.
If You Mute Someone on Snapchat, Will They Know?
Now, the question is whether one can still determine if they have been blocked, muted, or removed. The short answer is no; they can't tell if you have muted them on Snapchat.
If you think someone might have muted you on Snapchat, and you want to know for sure, then  A strategy you can use is to post a Snap, wait for some time, and then ask them if they liked it. Based on their response, you will understand whether they have muted you. Perhaps you are hanging out with the person, and now you send them a snap. If their phone beeps or buzzes, you are not on mute. If there is no alert, undoubtedly, they have muted you.
Conclusion
Do you know what the biggest advantage of social media is? It is your ability to share your thoughts and opinions immediately with others. However, the worst thing is that you fail to share the best of your feelings right at the moment. But if someone is texting you all day or putting up stories all the time, then it can be a bit annoying, and you might want a way to stop seeing their snaps and stories. That is where the mute feature comes in handy, and we have explained how you can use it in this article.
We hope you found this article helpful. If you have any queries, you can leave them in the comment section below. We'll be happy to help you.